High Quality Heating and Air, Inc provides straightforward and successful solutions to the toughest temperature control challenges. We get excited about the potential and possibilities of ductless mini- and multi-split systems. Compact equipment incorporates into even tight installation spaces, operates quietly, and accommodates the needs of a single room, multiple rooms, or the whole house. And we usually complete the installation process in a single day.
Expert Ductless HVAC Service & Repair
Installation requires no major teardown and makes no mess. With little more than a three-inch hole in the wall, access to electricity, and mounting capabilities, our experienced technicians deliver the benefits of zone control, perfect year-round comfort, and exceptional dehumidification. Drawing from Carrier brand options,High Quality Heating and Air, Inc offers a selection of Energy Star rated, high-efficiency configurations featuring inverter technology.
For ductless split system installations or replacements, call on High Quality Heating and Air, Inc!
Get in touch with us at 850-250-0395 for a free estimate on ductless HVAC design, installation, and the seasonal maintenance and repair of all makes and models. Family-owned and operated, our team of techs have been with us from day one and represents uncompromising values. We focus on no-hassle completions that achieve your goals and ensure sustainable improvement. High Quality Heating and Air, Inc remains on-call 24/7 for emergency response across Tallahassee, Woodville, Crawfordville, Bradfordville, Centerville, Capitola, Homestead Ridge, and Southwood, FL.
Advances in HVAC technology include ductless air conditioning, an increasingly popular choice for homes and businesses where it's not practical to install conventional cooling equipment. High Quality Heating and Air, Inc is a ductless air conditioning and heating contractor that's served the Tallahassee area since 2002.
What is Ductless Air Conditioning?
Ductless systems, also called mini-splits, are comfort systems that target specific areas. A mini-split AC system has two units: the outdoor compressor (air conditioner or heat pump) and the indoor air handler. The indoor unit mounts directly on your ceiling or wall; copper or plastic tubing holding the refrigerant and electrical lines connect the two units. Each outdoor unit can power up to four indoor units.
Ductless air conditioning is ideal for older homes that don't have ductwork and lack space to install it. Rather than using window air conditioners, which would be costly and inefficient when combating Tallahassee's heat and humidity, mini-split units provide the energy efficiency you're looking for without the noise and unsightly aesthetics. The ductless option fits multiple scenarios:
Room additions
Converted attics
Computer rooms
Garages
Home offices
Data storage areas
Advantages of Ductless AC
If you're looking to upgrade your existing cooling system or install new air conditioning, you don't want to overlook the opportunities that come with mini-split systems. Following are several reasons to consider ductless systems:
Targeted comfort: Each indoor unit comes with a wireless remote that allows you to control individual temperatures. This control balances out uncomfortable hot and cold spots and provides even, consistent comfort.
Energy savings: In conventional systems, you can have up to a 30 percent energy loss as the conditioned air travels through ductwork. Mini-split air conditioning eliminates this energy loss, thus saving you a substantial amount of money. You also save money because the zoned comfort of ductless allows you to cool and heat only the rooms you want when you want. Additionally, ductless systems run on less power, which is yet another reason you'll see lower energy bills.
Ease of installation: Since they require no ductwork, we can install ductless systems quickly. The versatility of ductless makes it a popular choice for hard-to-reach areas.
Healthy air: Ductless systems avoid the dirt and contaminant buildup that occurs in ductwork; they also eliminate the cost of periodic duct cleaning. Equipped with multiple filters that drastically reduce dust, allergens, and other airborne contaminants, mini-splits help you breathe easier and ensure that you always have fresh and pure indoor air.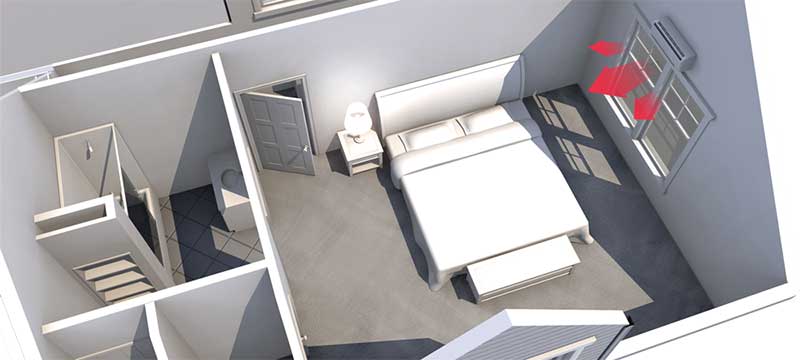 High Quality Heating and Air, Inc: Your Ductless Connection in greater Tallahassee and surrounding areas
With the climate in Tallahassee, Crawfordville, Woodville, Bradfordville, Centerville, Capitola, Monticello, Homestead Ridge, and Southwood FL, it's important that your AC and heating units function efficiently. Our service technicians have the expertise and skill to design, install, repair, and service your mini-split AC system. We are the best in the business in the Tallahassee area, and we'll leave your home just like we found it — only cooler. Contact us today to learn more about how ductless AC can deliver consistent and exceptional comfort all year long.
Ductless HVAC Service in Woodville, FL | Ductless HVAC Repair Southwood, FL | Ductless HVAC System Installation Capitola, FL
Ductless HVAC Repair, Ductless Split Repair & Ductless HVAC Service

Bradfordville, FL, Tallahassee, FL, Woodville, FL, Southwood, FL, Centerville, FL & Homestead Ridge, FL
Ductless Split Repair in Centerville, FL | Ductless HVAC System Installation Tallahassee, FL | Ductless HVAC Repair Bradfordville, FL
Ductless HVAC System Installation

∴

Ductless Split Repair

∴

Ductless HVAC Service

∴

Ductless HVAC Repair ∴ Capitola, FL ∴ Crawfordville, FL ∴ Centerville, FL